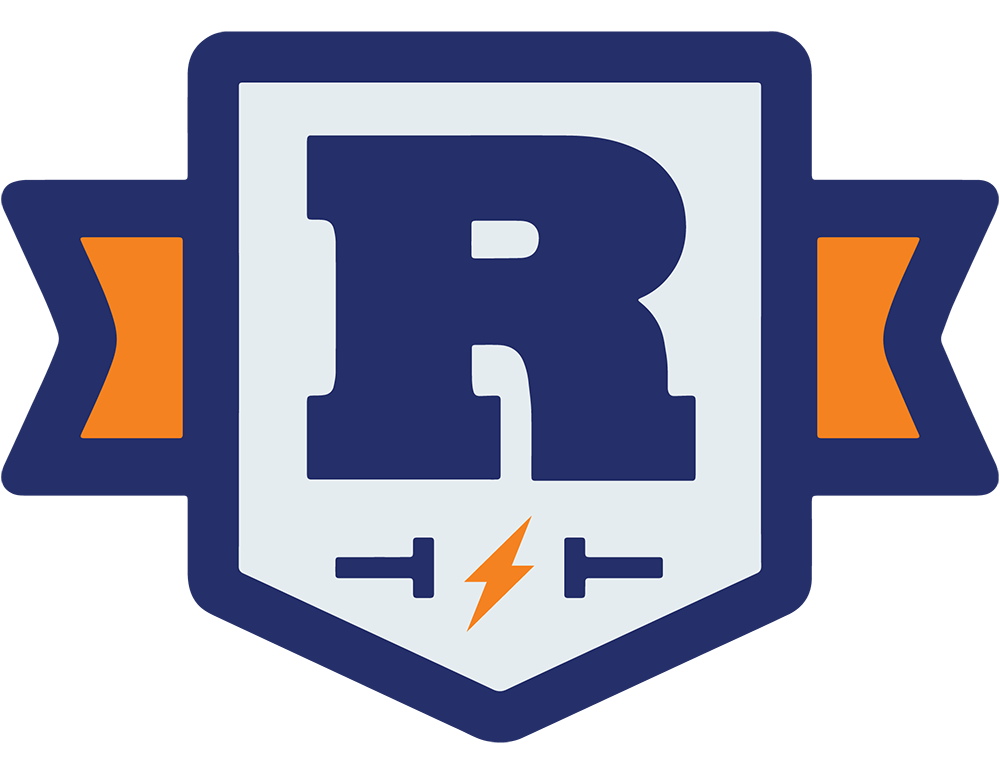 Electrical Safety Program
Ritter Safety: Your Customized Electrical Safety Solution
Book a Consultation for Your Electrical Safety Program
Empowering Workplace Safety With Our Comprehensive Electrical Safety Program
Creating a safe workplace is a priority, and that's where a strong Electrical Safety Program comes in. At Ritter Safety, we make it easy for you. We mix the right amount of compliance requirements, smart practices, and hands-on advice to give you a program that's just right for your workplace.
We look at the nitty-gritty, like shock and arc flash hazards, ensuring you're covered and your team is safe. We also ensure your program meets all the official requirements from OSHA and is up-to-date with the latest 2024 Edition of NFPA 70E.
Whether you're starting from zero or have something in place, we've got you covered. We use all our know-how to look at what you've got and make it even better. We can chat over Zoom or come right to your doorstep, making the whole process as easy as pie.
We're not just here to give advice; we're your safety partners. We'll help you build a safety culture that sticks, making your workplace not just a compliant one but a role model for safety. And as safety rules get updated, we'll be right by your side, making sure your program is always top-notch.
In a nutshell, Ritter Safety is your go-to partner, helping you step up your safety game without the hassle!
Ritter Safety's Unparalleled Approach to Your Electrical Safety Program
When embedding unparalleled safety into every corner of your workplace, an effective electrical safety program is not just a necessity—it's your strongest ally. At Ritter Safety, we specialize in fine-tuning and elevating your safety protocols, ensuring every team member steps into a workspace brimming with confidence and security.
A Conversation that Suits You
Every electrical safety program consultation begins with a thorough and insightful conversation. We're not just here to talk; we're here to listen, adapt, and cater to every specific need of your unique workplace. Virtual or face-to-face, our consultations are crafted to fit seamlessly into your schedule, ensuring every unique safety need and nuance is acknowledged and addressed.
In-Depth Safety Review
The second step in our holistic approach is a comprehensive review of your existing safety landscape. Every electrical safety program we craft is rooted in a deep understanding of your current protocols. We leave no stone unturned, ensuring each aspect, from equipment safety to electrical hazards, isn't just compliant but is a benchmark of safety excellence.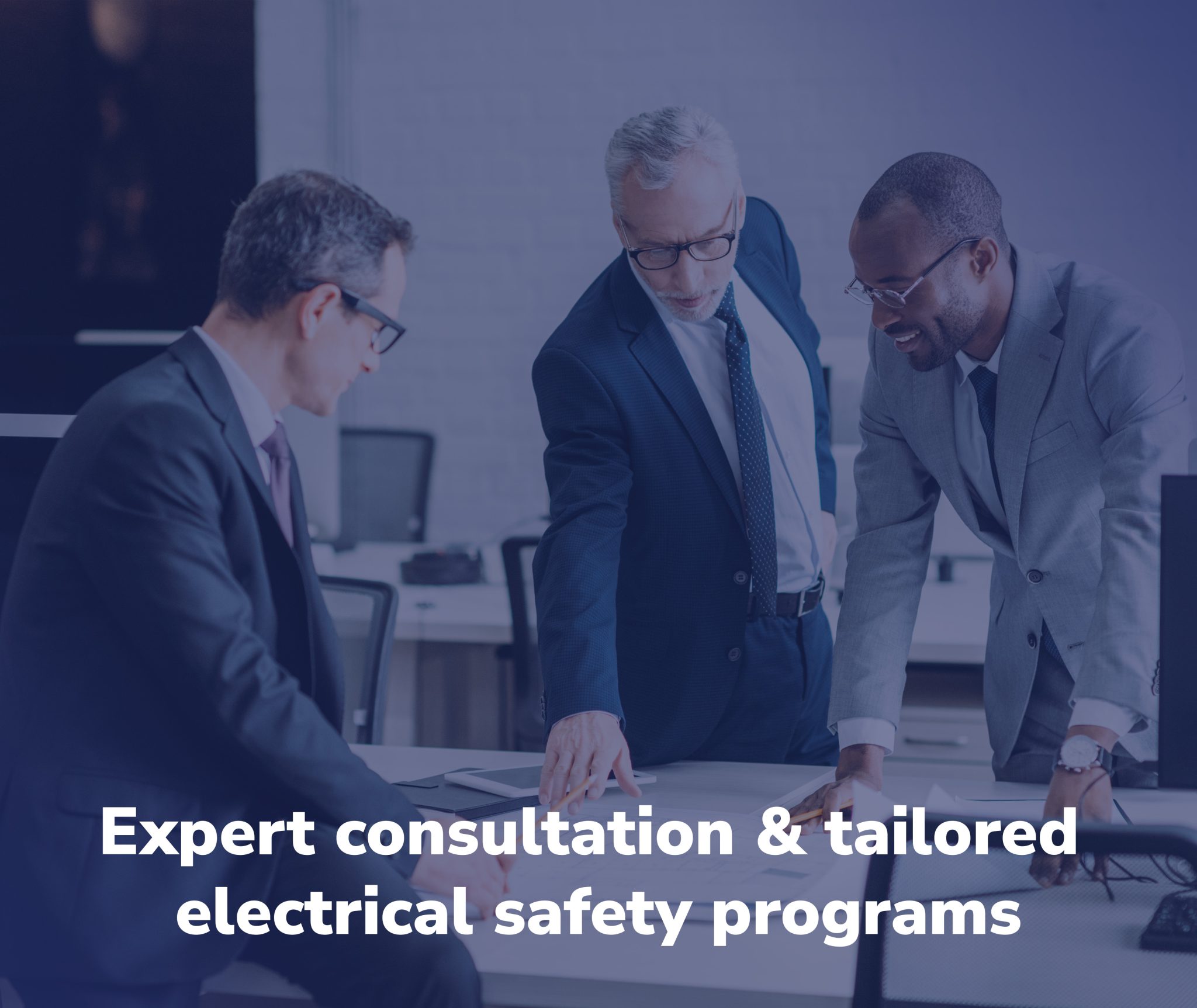 Ritter's Electrical Safety Program
Our Initial Consultation is Conducted via Site Visit or Conference Call to Discuss Organization-Specific Items Including, but not limited to:
• Qualified Personnel
• Other Employees
• Arc Flash & Shock Hazard Potentials
• Equipment Labeling
• Energized Electrical Work Permits
• Job Safety Plans
• Personal Protective Equipment
• Lockout / Tagout (LOTO) Procedures
• Risk Assessment Procedures
• Field Service Technicians & Personnel
• Training
• Outside Contractors and Service Personnel
Arc Flash and Shock Hazards
Risk Assessment Procedures
Other Hazards associated with working on or near Electrical installations.
Responsibilities for

Qualified Electrical Workers
Unqualified Electrical Workers
Outside Contractors, Subcontractors, and Host Employers.

Personal Protective Equipment
Required Documents
Training
Tools and Test Equipment
 Draft Review Meeting conducted via Site Visit or Conference Call.




• Completion of Final Edits.




• Final Program Delivery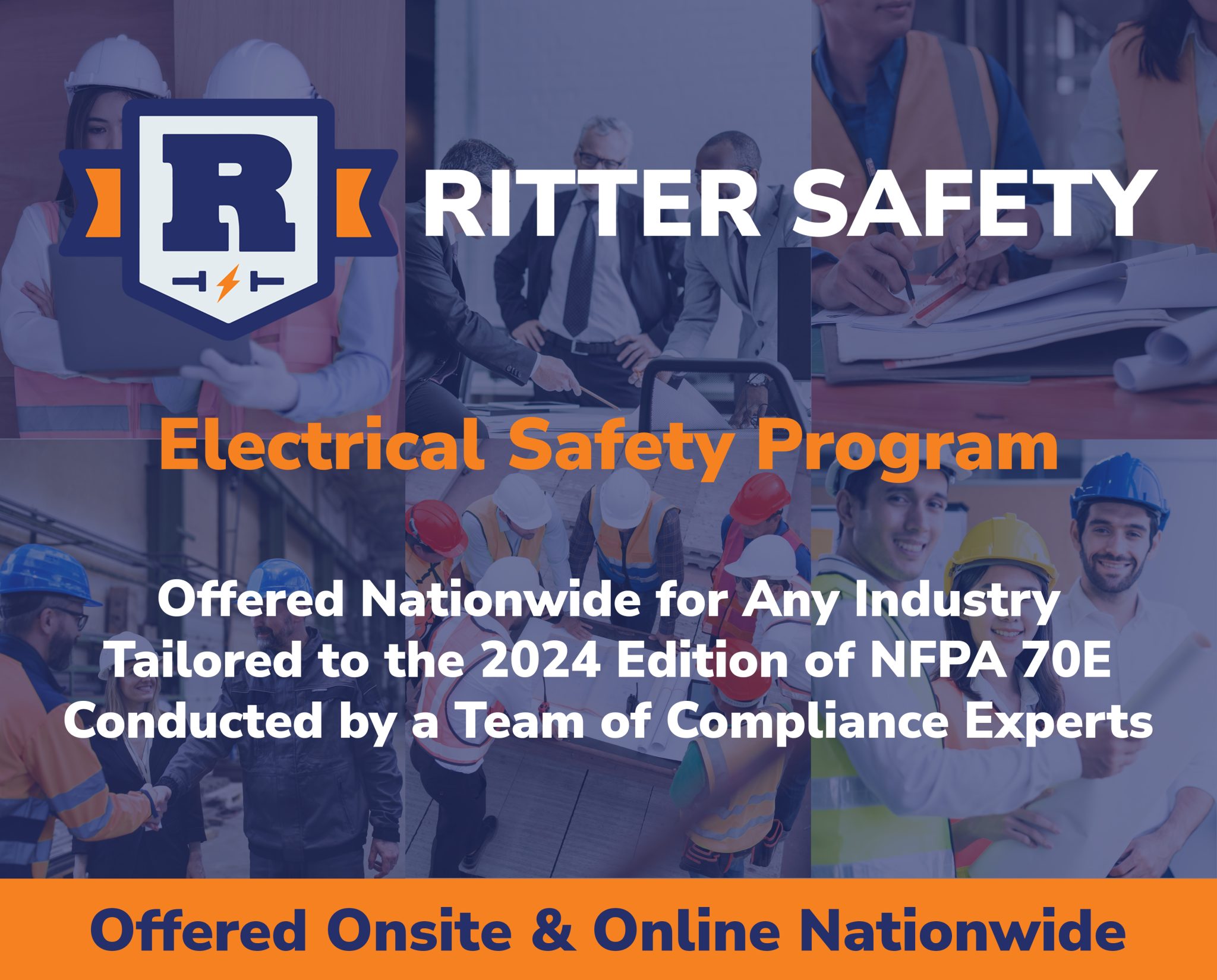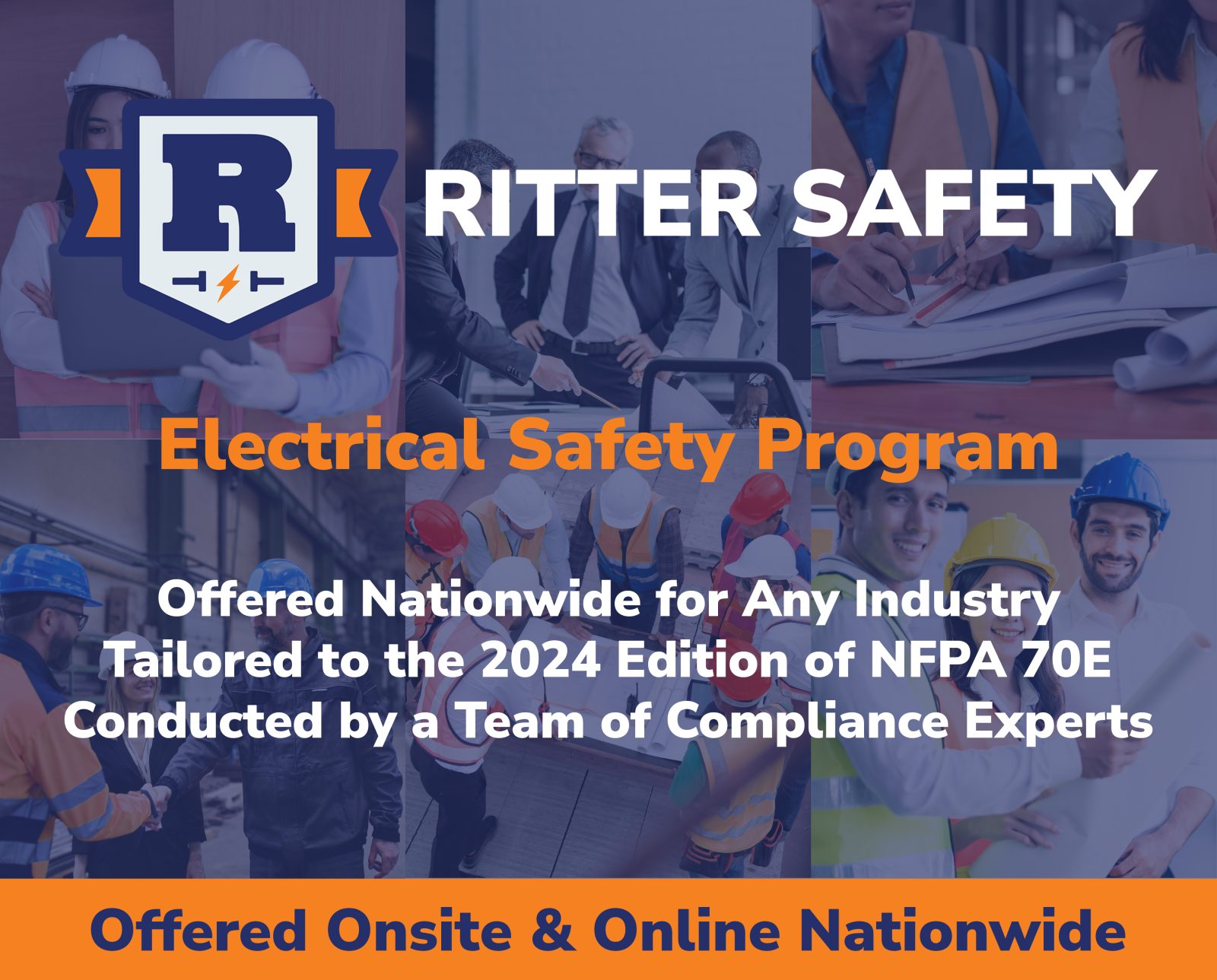 Personalized Safety Solutions
Your business is unique, and your electrical safety program should echo this individuality. We weave in a blend of compliance and customization, ensuring your tailored safety plan isn't just a document but a living entity, reflective of your business's distinct rhythm. With Ritter Safety, every safety protocol is a blend of official safety mandates and the special touches that define your operational landscape.
Seamless Integration
An electrical safety program's true victory lies in its seamless integration into the everyday. We don't just hand over a plan; we breathe life into it, ensuring every team member is a confident participant in this renewed safety culture. With easily adaptable formats and comprehensive training, safety isn't just a word but an everyday practice.
At Ritter Safety, every electrical safety program is a symphony of compliance, customization, and convenience. It's not just about ticking boxes—it's about embedding a culture of intuitive and robust safety where every team member is both a beneficiary and a guardian. Dive into a world where safety is not just seen but is felt and lived, with an electrical safety program that's as alive and evolving as your dynamic business landscape.
Step into a world meticulously crafted for safety—your tailored electrical safety program awaits at Ritter Safety.
Why Choose Ritter Safety for Your Electrical Safety Program?
When it comes to electrical safety, Ritter Safety stands out as the trusted expert, endorsed by America's largest companies and organizations. We are recognized for our adeptness in transforming complex safety norms into tailored, user-friendly solutions. Every service, from training and consulting to audits, is customized, ensuring a perfect fit for every client, regardless of location or operational hours.
Our team of seasoned professionals is dedicated to delivering safety protocols that are not just compliant but set the bar in workplace safety standards. We are your accessible partner, ready to adapt to diverse operational rhythms and locations across the nation.
Choosing Ritter Safety means opting for a seamless blend of expertise and adaptability, making workplace safety intuitive and effortless. Your pathway to a workplace where safety is ingrained in every aspect, and each team member is a confident contributor to a secure environment, begins with us.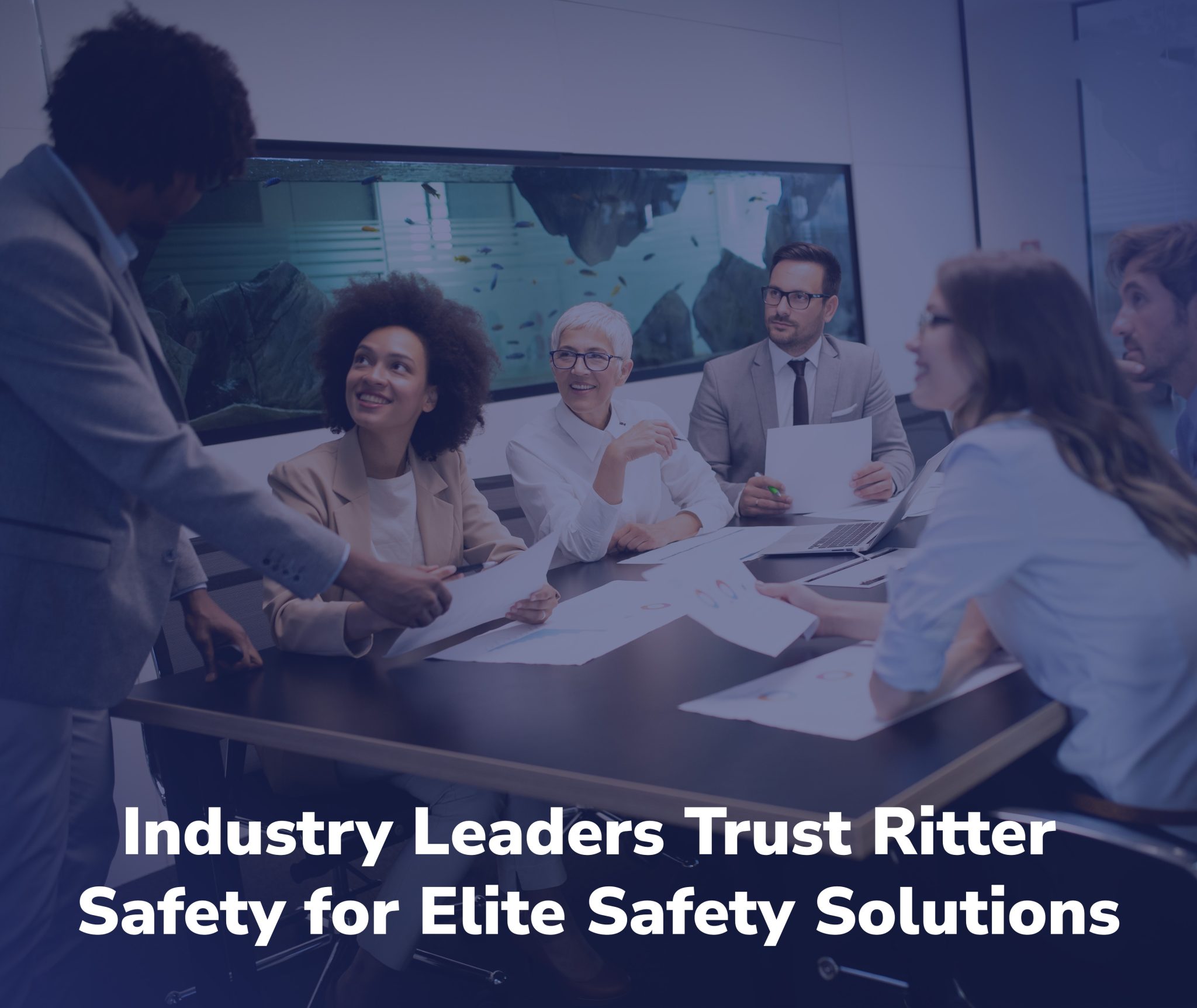 Key Features of Our Electrical Safety Program
Embark on a journey where safety is intricately woven into the fabric of your everyday operations. At Ritter Safety, our Electrical Safety Program is your companion in fostering a workspace that radiates confidence, safety, and efficiency.
Responsibilities for all Positions
We believe in the power of unity. Our program is crafted ensuring:
Clarity: Each member knows their role in maintaining safety.
Engagement: Every team is actively involved, making safety a shared responsibility.
Limits of exposure for Shock & Arc Flash Hazards
Safety comes from knowing the limits. We provide:
Defined Boundaries: Clear outlines to ensure employees work safely.
Confidence: Assurance in every task, knowing the safety margins are well-established.
Personal Protective Equipment (PPE)
Protection is personal, and so is our approach to PPE:
Tailored Gear: Equipment that fits the specific needs of each role.
Maintenance Guides: Easy steps to care for and extend the life of your PPE.
Authorized Energized Work
We simplify complex processes, offering:
Streamlined Procedures: Making authorized energized work understandable and safe.
User-Friendly Documents: Resources that are easy to read and implement.
Procedures for Risk Assessment
Risk is part of work, and managing it is part of our program:
Step-by-Step Guides: Making risk assessment intuitive.
Practical Implementation: Turning procedures into everyday practice.
Documents to be used
We ensure documentation supports, not hinders, safety:
Clarity: Documents that are easy to understand.
Accessibility: Readily available for every team member, supporting informed actions.
Field Audits
Continuous improvement is our mantra, facilitated through:
Regular Checks: To ensure the sustained effectiveness of safety protocols.
Actionable Insights: Turning findings into improvements.
Incident Investigations
Learning and adapting from every incident:
Thorough Analysis: Understanding the root causes.
Enhanced Safety Protocols: Adapting and strengthening safety measures.
Requirements for Outside Contractors
Inclusion and uniformity in safety for everyone:
Clear Protocols: Ensuring contractors align with your safety standards.
Integrated Safety Culture: Every individual on-site is a contributor to safety.
Training Requirements for all Positions
Empowering every team member through:
Customized Modules: Tailored training for each role.
Empowered Staff: Every member is equipped and confident in upholding safety.
Step into the Ritter Safety experience, where the Electrical Safety Program is not a set of rules, but a pathway to an environment where safety is instinctive, and every task and individual is enveloped in protection.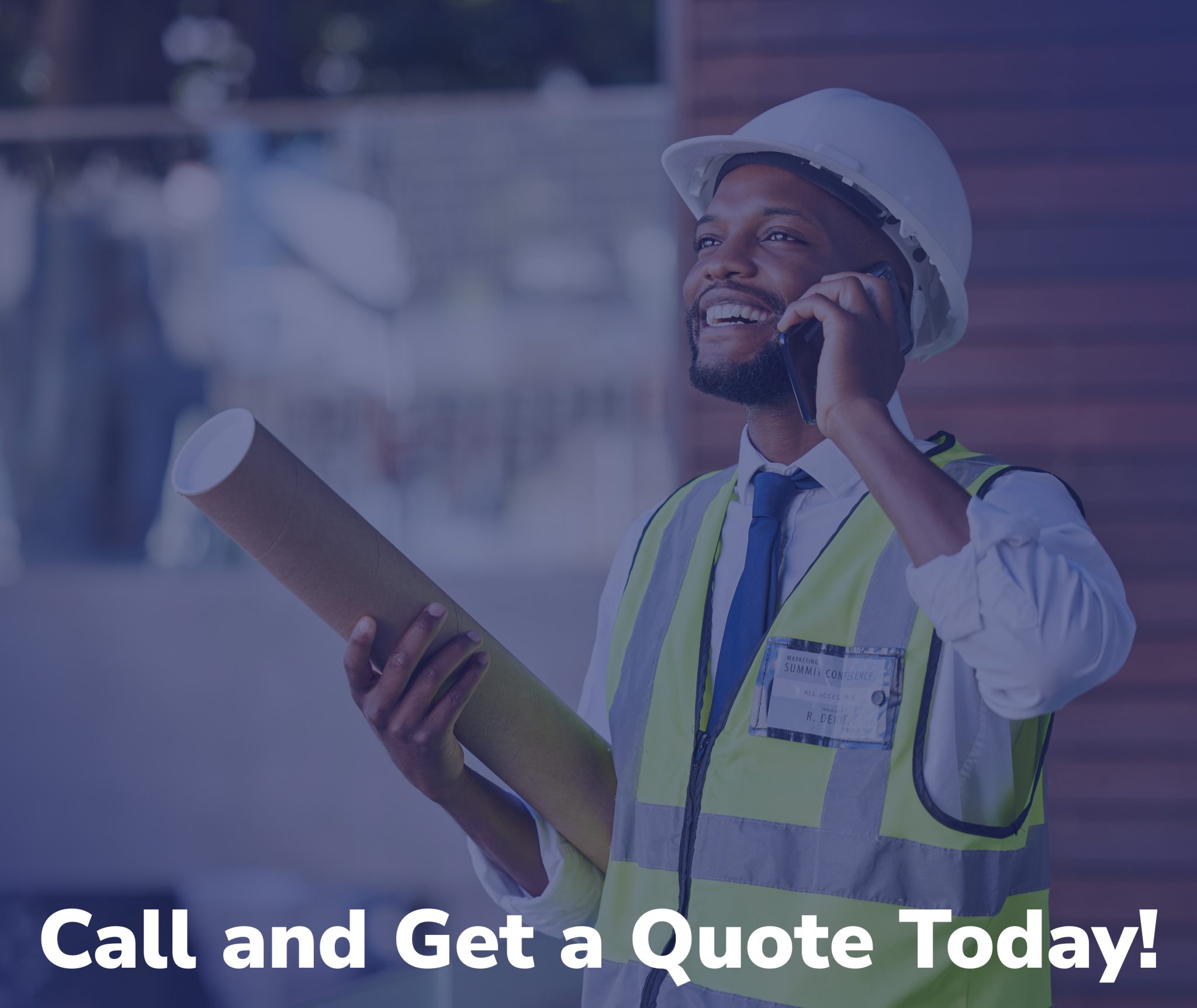 Ask a Question or Get a Quote
Navigating the intricate paths of workplace safety can often bring up questions or the need for a tailored electrical safety program that fits your unique operational landscape.
At Ritter Safety, we're here to guide, assist, and transform your safety queries and needs into actionable, effective solutions.
Get a Quote in 24 Hours
We understand that time is of the essence. When you reach out to us for a quote, expect a detailed, customized proposal landing in your inbox in 24 hours or less.
Our responsiveness ensures that your journey towards enhanced safety is swift, seamless, and devoid of unnecessary delays.
Contact Us
Your questions and inquiries are paramount to us. Contacting Ritter Safety opens doors to a trove of expertise, insights, and tailored solutions designed to elevate your electrical safety program. We're not just responsive; we're your partner, turning every query into a step towards a safer, more secure workplace.
At Ritter Safety, every question is an opportunity to enhance safety, and every quote is a tailored pathway to a workplace where safety isn't just implemented but is an integral, living entity. Your enhanced safety environment, crafted with precision, expertise, and responsiveness, awaits.