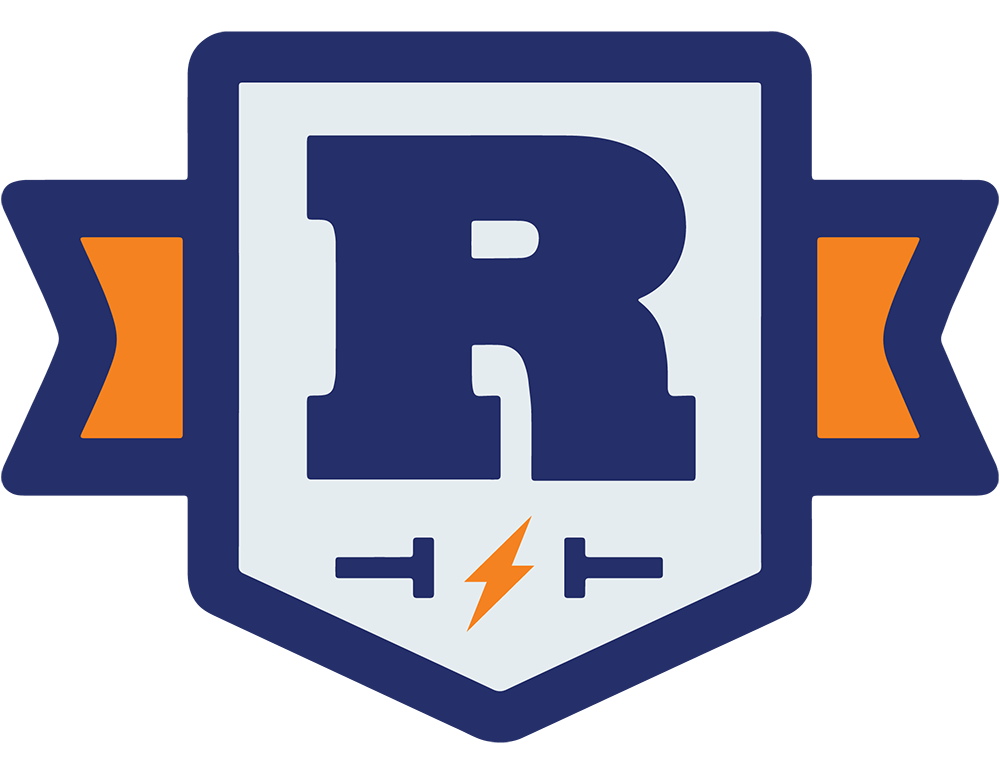 Lockout Tagout Training
Lockout Tagout Training performed by some of the best trainers & consultants in the industry.  Book Today!
Lockout Tagout Training by Ritter Safety
Ritter Safety is committed to delivering top-tier, adaptable safety training, ensuring your team is equipped with the knowledge to maintain a secure, productive working environment.  Our 2.5 Hour Lockout Tagout Training Class includes:
Comprehensive Lockout Tagout Training for Authorized and Affected Employees, Supervisors, & Management

Aligns with

NFPA 70E 2024

,

OSHA 1910.331-335

&

1910.147

standards

Customizable to fit your organization's specific Hazardous Energies Control Program

Offered nationwide, adaptable to any industry and shift

Options for both onsite and online learning, facilitated by field experts

Capability to conduct up to

three 2.5-hour sessions

in a single day for shift accommodations
Importance of Lockout Tagout Training
Lockout Tagout Training is crucial for ensuring workplace safety. It equips employees with skills to control hazardous energy effectively, reducing the risk of accidents. This training is essential for compliance with safety regulations, promoting a culture of safety, and safeguarding both personnel and equipment. Ritter Safety's program is designed to instill practical skills, ensuring that safety protocols are second nature, enhancing overall workplace security and productivity.
Ritter Safety's Comprehensive Training Program
Ritter Safety's Comprehensive Lockout Tagout Training Program is meticulously designed to cover every aspect of Lockout Tagout (LOTO) safety protocols.  Ensuring your team's compliance!
We begin with clear definitions and explanations, distinguishing between Lockout and Tagout, and illustrating their applications with real-world examples.
Our training aligns with NFPA 70E & OSHA requirements, offering an in-depth understanding of de-energization and Arc Flash & Shock Labeling. We address potential electrical and other hazards, ensuring employees are well-equipped to execute LOTO procedures safely. The program outlines employer responsibilities, LOTO equipment, and devices, and distinguishes between simple and complex LOTO.
Participants are guided through the process of establishing and verifying an electrically safe work condition, including emergency lock removal and documentation requirements. We ensure your team is well-versed in training and auditing requirements, and adapt our curriculum to meet the unique specifications of your organization's Control of Hazardous Energies program.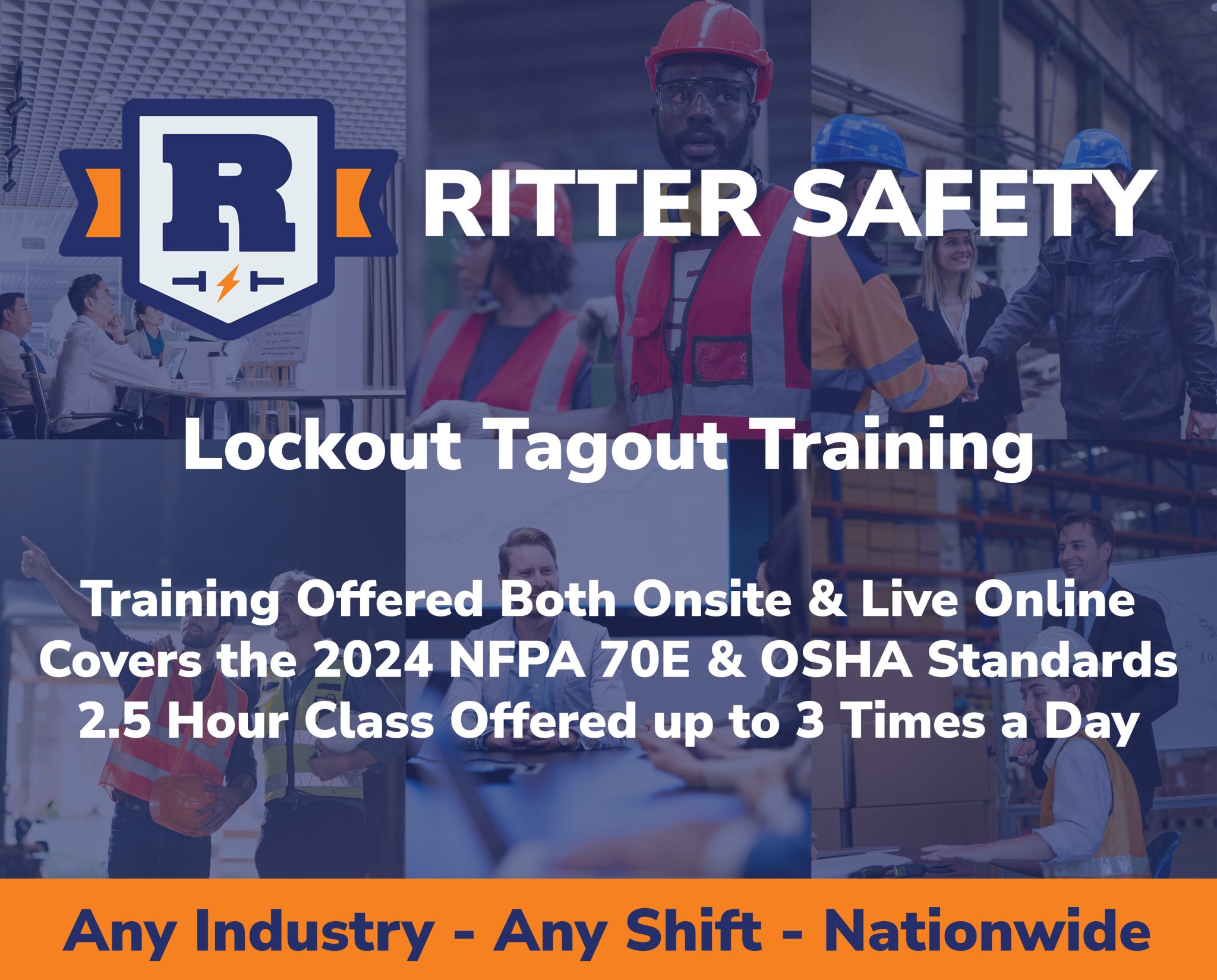 Topics Included in the 2.5-Hour Lockout Tagout Training Class
• Definition and explanation of terms.
• Lockout vs Tagout
• Real-world, practical examples that illustrate the need and effectiveness of NFPA 70E & OSHA LOTO
requirements.
• Relationship and explanation of NFPA 70E & OSHA.
• OSHA and NFPA 70E requirements for De-energization.
• Arc Flash & Shock Labeling Requirements including Explanation and Proper Interpretation.
• Potential Electrical & Other Hazards related to the proper execution of LOTO Procedures.
• Employer Responsibilities.
• LOTO Program Requirements.
• LOTO Principles
• LOTO Equipment & Devices.
• LOTO Procedures.
• Simple LOTO vs. Complex LOTO.
• Process for Establishing & Verifying an Electrically Safe Work Condition.
• Emergency Lock Removal Requirements.
• Documentation Requirements.
• Training and Auditing Requirements.
• Specific or unique requirements of the employer's Control of Hazardous Energies program.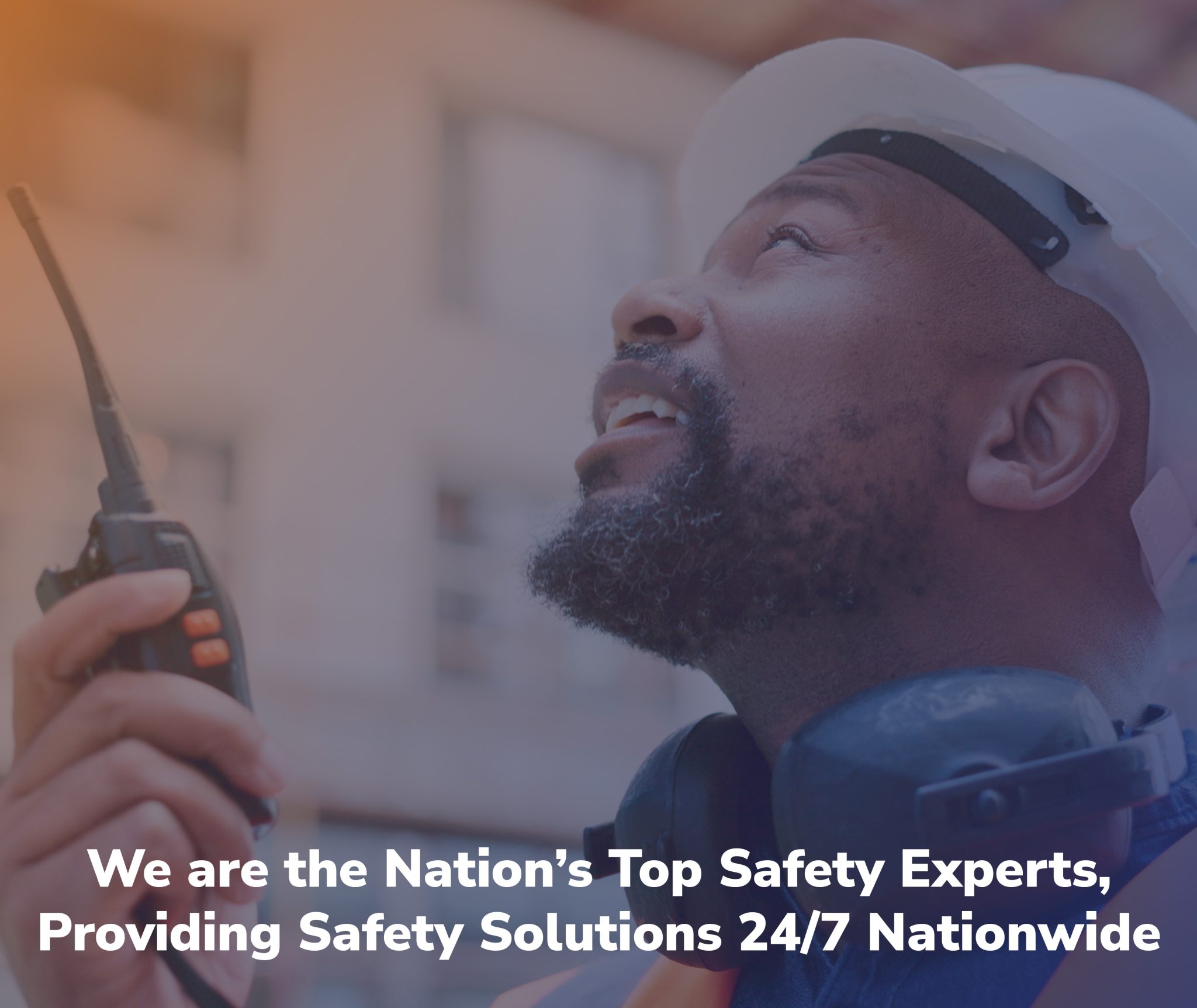 Available Nationwide, 24/7, for Any Industry or Shift
Ritter Safety stands out with its unwavering commitment to accessibility and convenience. Our Lockout Tagout Training is available nationwide, ensuring that organizations across various locations have access to quality safety training.
We understand the dynamic nature of different industries and shifts, which is why our training programs are offered 24/7, tailored to fit seamlessly into your schedule, minimizing downtime and ensuring productivity.
Whether you operate in manufacturing, construction, or any other sector, our expert trainers are ready to deliver customized, industry-specific Lockout Tagout Training at your convenience.
Ritter Safety is your reliable partner for comprehensive, accessible, and convenient safety training, ensuring your team is equipped to maintain a safe and productive workplace environment around the clock.
Why Choose Ritter Safety for Lockout Tagout Training?
Choosing Ritter Safety for your Lockout Tagout Training ensures you receive top-tier, expert-led safety education. We're renowned for our customized, comprehensive courses, nationwide availability, and adaptability to various industries and shifts. Our commitment is to empower your team with practical skills for enhanced workplace safety.
Expertise and Experience
Our Expertise and Experience set Ritter Safety apart. With years of dedicated service, we've honed our curriculum to offer an unmatched learning experience. Our trainers are seasoned professionals, well-versed in the latest safety protocols and regulations. We combine theoretical knowledge with practical insights, ensuring your team is equipped with actionable skills for optimal workplace safety.
Customized Training Solutions
At Ritter Safety, we prioritize your unique needs, offering Customized Training Solutions tailored to align with your industry, shift, and specific operational requirements. Our expert trainers craft personalized learning experiences, ensuring each participant gains practical, applicable skills to enhance safety and compliance in your distinct work environment.
Onsite Lockout Tagout Training
Ritter Safety's Onsite Lockout Tagout Training is meticulously crafted to offer in-depth, hands-on learning experiences, tailored to each client's specific industry and operational needs.
Our expert trainers, available nationwide, are committed to imparting practical skills and knowledge, ensuring your team is adept at navigating the complexities of NFPA 70E & OSHA requirements.
We focus on real-world applications, enhancing understanding and execution of both simple and complex LOTO procedures. Every session is customized, addressing the unique equipment and potential hazards at each facility, fostering a robust safety culture.
With Ritter Safety, you're not just achieving regulatory compliance; you're empowering your team to elevate workplace safety, boosting overall efficiency and security.
Choose Ritter Safety for a comprehensive, transformative learning experience that prioritizes your organization's specific needs and safety goals.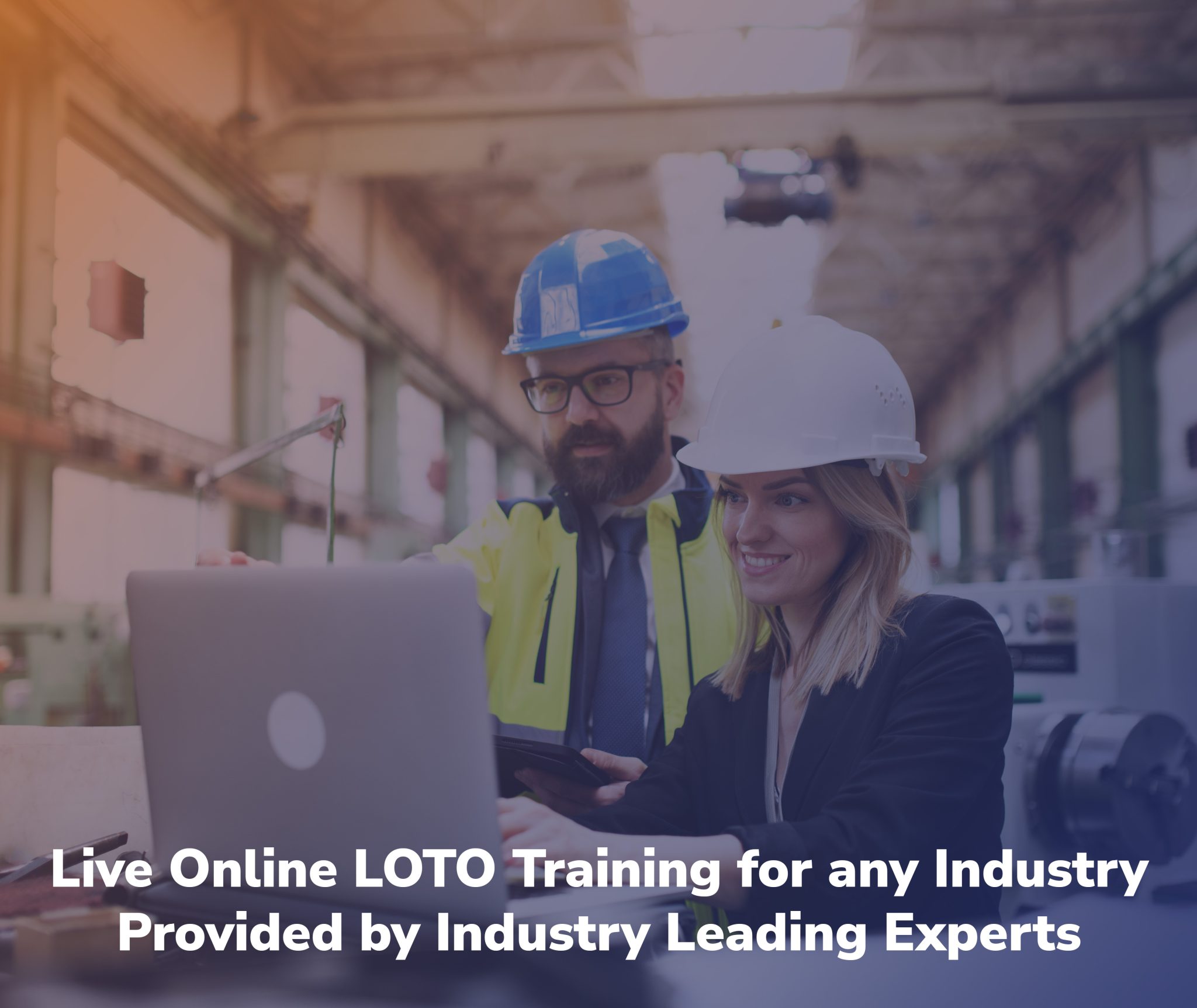 Online Lockout Tagout Training
Ritter Safety's Online Lockout Tagout Training offers the same depth and quality of our onsite sessions, delivered live by our expert trainers. We bring the classroom to you, ensuring accessibility and convenience without compromising the quality of learning.
Each live online session is interactive, allowing participants to engage with trainers in real-time, ask questions, and receive immediate feedback. We cover the comprehensive curriculum, including NFPA 70E & OSHA standards, with a focus on real-world applications. Participants gain insights into de-energization, Arc Flash & Shock Labeling, and executing LOTO procedures effectively.
Our online training is tailored, addressing the specific needs and challenges of your organization, ensuring a proactive safety culture. With Ritter Safety, you achieve regulatory compliance and empower your team with the skills to uphold enhanced safety standards, ensuring a secure, productive workplace.
Choose Ritter Safety for live, interactive, and customized online lockout tagout training.
Industries We Serve
Ritter Safety has a rich history of delivering unparalleled Lockout Tagout Training to a diverse array of industries across the nation. Our esteemed clientele encompasses Fortune 500 giants and small businesses alike, each benefitting from our consistent, top-tier training.
Our expertise extends to a variety of sectors, including:
Manufacturers

:

Implementing enhanced safety protocols tailored for diverse manufacturing environments.

Healthcare Institutions

: Hospitals and centers equipped with specialized safety measures ensuring optimal patient and staff safety.

Educational Institutions

: Tailored safety training for universities, public, and private schools, ensuring a safe learning environment.

Government Agencies & Organizations

: Customized training ensuring safety and compliance in public service sectors.

Correctional Facilities

: Prisons and detention centers fortified with stringent safety protocols.

Public Works & Logistics Companies

: Workers empowered to manage and mitigate potential electrical hazards effectively.

Contractors

: Specialized training ensuring that contractors operate safely and efficiently in varied environments.

Industrial/Commercial Facilities

: Maintenance staff in industrial sectors equipped with comprehensive safety knowledge.
Whether it's a bustling manufacturing plant or a busy commercial facility, Ritter Safety is committed to delivering customized, effective Lockout Tagout Training, ensuring every client, regardless of their industry or size, is well-equipped to uphold the highest standards of safety and compliance. Your safety journey begins with Ritter Safety, a partner dedicated to excellence, integrity, and tangible results.
Get Started with Ritter Safety's Top Tier Lockout Tagout Training
Unlock enhanced safety with Ritter Safety's distinguished Lockout Tagout Training. We offer tailored, comprehensive programs nationwide, ensuring your team is well-versed in essential safety protocols.
Choose between our interactive onsite or live online sessions, each designed to empower employees with practical, actionable skills in managing hazardous energy, in strict adherence to NFPA 70E & OSHA standards.
Our commitment is to foster a robust safety culture, where every employee is equipped and motivated to uphold the highest safety standards, ensuring a secure, efficient workplace.
Join the ranks of organizations that entrust Ritter Safety for thorough, accessible, and impactful safety training. Your step towards a safer, compliant operational environment is with us.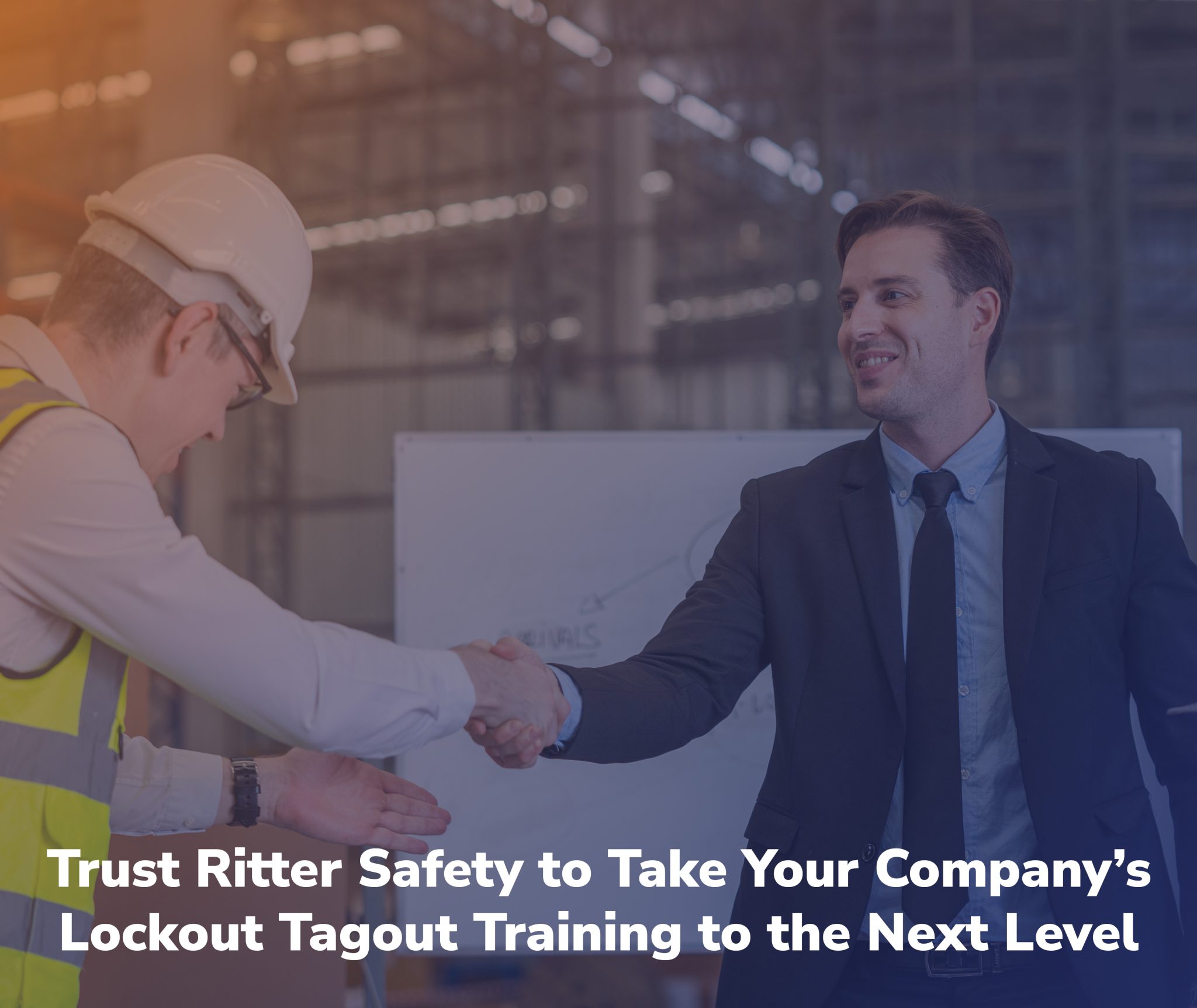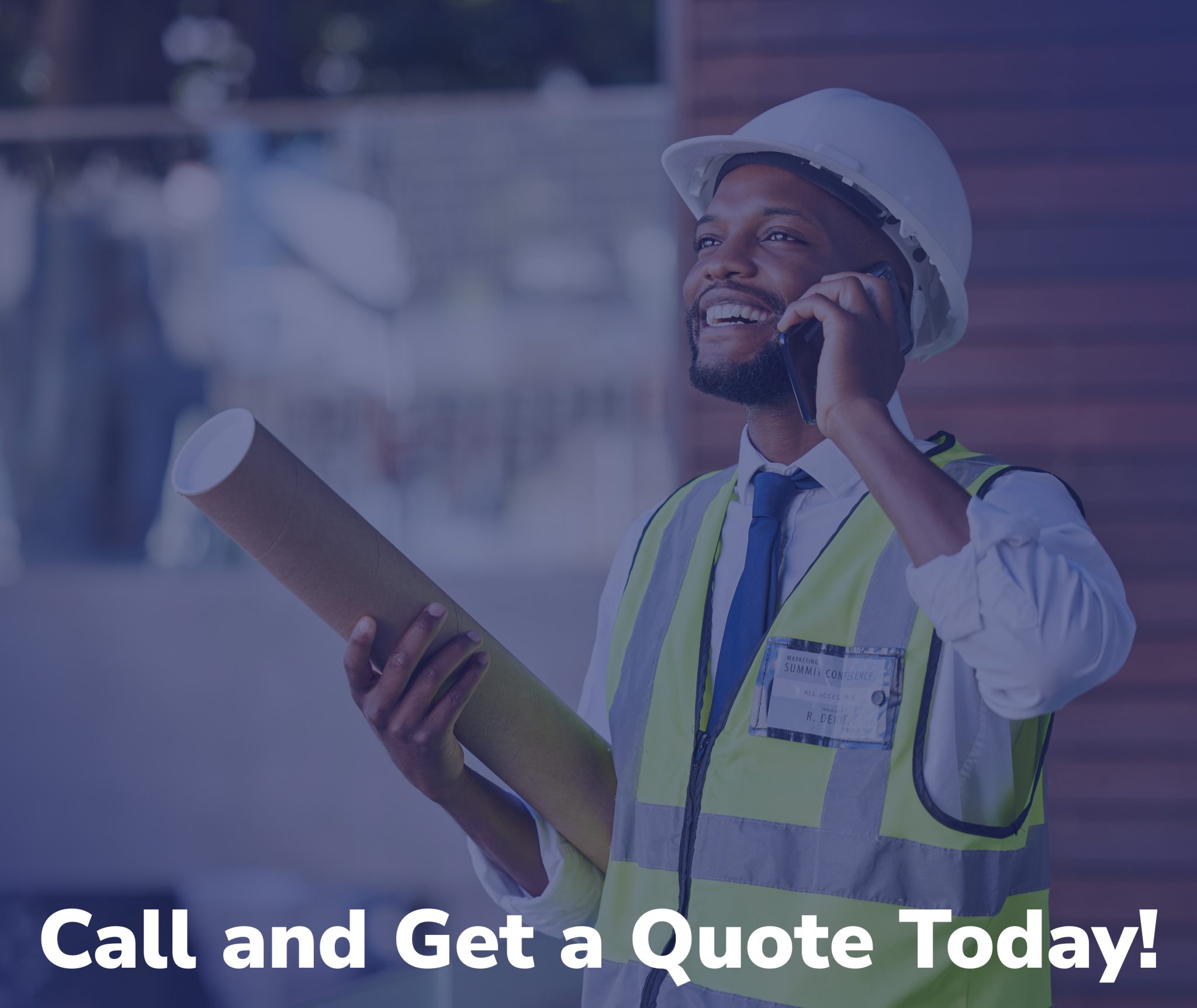 Ask a Question or Get a Quote
Navigating the intricate paths of workplace safety can often bring up questions or the need for a tailored lockout tagout solution that fits your unique operational landscape.
At Ritter Safety, we're here to guide, assist, and transform your safety queries and needs into actionable, effective solutions.
Get a Quote in 24 Hours
We understand that time is of the essence. When you reach out to us for a quote, expect a detailed, customized proposal landing in your inbox in 24 hours or less.
Our responsiveness ensures that your journey towards enhanced safety is swift, seamless, and devoid of unnecessary delays.
Ensuring Compliance and Safety
Step up your safety game with Ritter Safety's Lockout Tagout Training, your key to unlocking a world of compliance and enhanced safety. Our expertly crafted curriculum is a blend of essential knowledge and practical skills, designed to navigate the complexities of NFPA 70E & OSHA requirements with ease. Don't just meet the standards, exceed them.
Transform your workplace into a sanctuary of safety, where protocols are not just followed but are a part of the organizational DNA. Join hands with Ritter Safety, and make the conscious choice for a workplace where safety and productivity coexist. Your journey to a compliant, secure, and efficient operational environment begins with one decisive step – choosing Ritter Safety. Act now!